Paihia is the main resort town of the Bay of Islands, home of beaches, eateries and activity options galore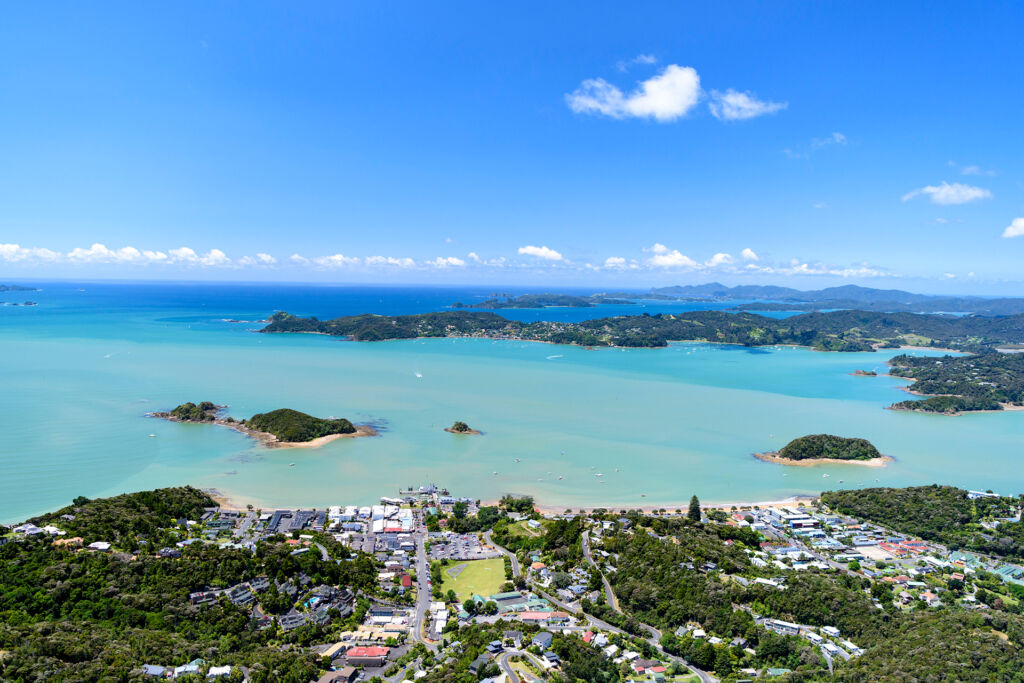 Where is Paihia?
The coastal town of Paihia sits on State Highway 11 in the Bay of Islands, Northland. It's about three hours' drive north from Auckland and one hour north of Whangarei. While it's not the largest town in the region, it's the most popular as a visitor destination thanks to its beachfront location, busy wharf and sheltered waters. For this reason Paihia is known as the gateway to the Bay of Islands.
Paihia History
There were Māori settlements around Paihia and neighbouring Waitangi for a long time before Europeans arrived. In 1769 Captain James Cook visited the area and gave the Bay of Islands its present name.
In 1823 missionaries arrived in Paihia and built New Zealand's first church. A popular (but unproven) story about how Paihia got its name is that missionary Reverend Henry Williams knew only a few words in the Māori language, one being 'pai' (good). When he arrived at the site of his new mission he said to his guide 'pai here' and – and the name stuck.
In 1835 Williams set up New Zealand's first printing press to print bibles in Māori, A few years later in 1840 it was also used to print copies the Treaty of Waitangi. Williams only had one night to translate the Treaty documents into te reo (the Māori language), something that may explain the many years of misunderstandings and legal wrangling that continue to this day.
After the mission closed in 1850, Paihia's size dwindled, although it the whaling and kauri timber industries kept it going. It wasn't until the 1930s that it was put back on the map, this time as a holiday destination. American novelist and keen angler Zane Grey made the Bay of Islands famous as a game-fishing hotspot, and visitors began to come from all over the world. During World War II American troops built road between Kawakawa and Paihia, which made it easier to travel there. By the 1960s hotels, holiday camps and beach houses were catering to the crowds.
Things to do in Paihia
The most popular thing to do in Paihia is to get out on the water! Fishing, boating and cruising, kayaking and parasailing are all on offer.
There is a wide range of accommodation options on offer in Paihia, so it's the perfect place to base yourself while you explore the Bay of Islands and wider Northland region.
Russell is an easy ferry trip across the harbour and Kerikeri is a short drive further north. You can also travel across to Northland's west coast and visit the beautiful Hokianga region.