This small rural town sitting on the south side and inlet of the Hokianga harbour is one of the many overlooked and charming places to stop and check out while you're in Northland.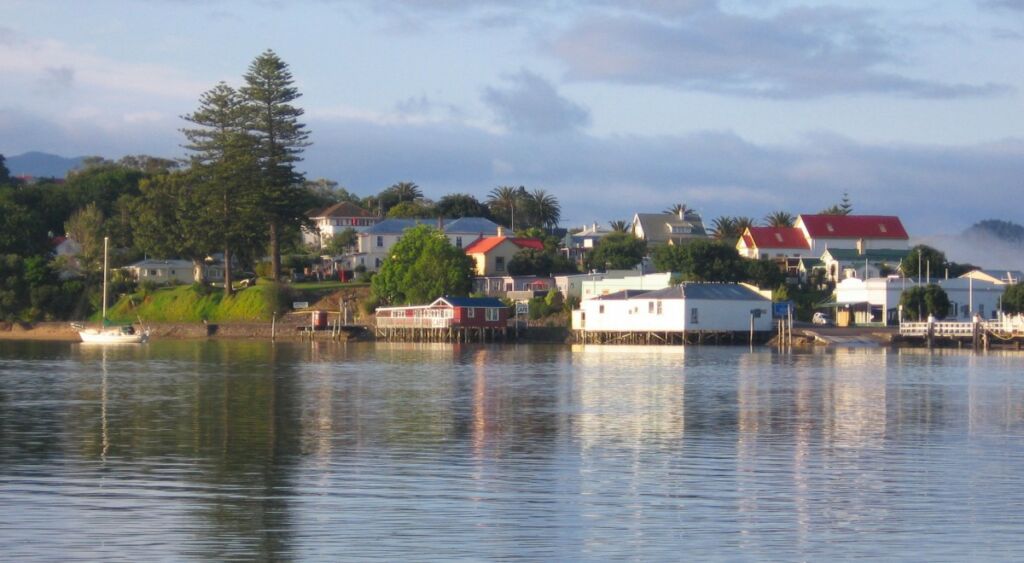 With the population declining over the past 50 years, and currently sitting at just below 500, one might be forgiven for thinking not a lot goes on in this peaceful town by the sea. The friendly locals seen on street corners catching up with each other and a sense of calm throughout the town makes you assume it's always been this quiet here. However, Rawene was once a bustling trade hub while playing a huge part in New Zealand history. Rawene is New Zealand's third oldest town – at first it was a timber centre, and in the early 1800s a mill and shipyards were established.
In 1898, the small town was involved in the 'dog tax war'. This was a bloodless war occurring when the Hokianga County Council (made up of British settlers) imposed a tax of half a crown (one eighth of a pound) on each dog in the district. Many locals refused to pay and a rebellion broke out. The ringleaders were eventually arrested and imprisoned. You can see a unique art piece dedicated to this particular event in history next to the local supermarket.
The many plaques on local shops and buildings mark Rawene's historic trail and give more detailed information about what happened here in the early days of European settlement. The original pharmacy is still operating today and has a waka (Māori for canoe) that's over one hundred years old standing proudly outside.
One historic building that's worth exploring is Clendon House, the home of James Reddy Clendon, who was US consul at the Bay of Islands in the 1830s. He also acted as a witness to the Treaty of Waitangi signing in 1840. Clendon died in 1872 leaving his young wife to look after the house and his many children and deal with his enormous debts.
Here are some more highlights of Rawene…
Where to eat in Rawene
Number 1 Parnell: A cafe and art gallery and relaxing hang out spot where you can grab some great local coffee, homemade pies and cakes. Enjoy a wander around the gallery featuring local artists from the area and showcasing New Zealand art, sculptures and jewellery. They have a reading corner and a view of the car ferry operating across to Kohukohu. A five minute coffee stop often turns into enjoying an hour here.
The Boatshed Cafe is a family-run eatery – once an actual boatshed and now a funky warm cafe with friendly staff and a great view overlooking the harbour. When the tide is in, the Boatshed doubles as a great fish viewing platform where you can sit back with a coffee and one of their giant sized blueberry muffins and soak up the views of marine and bird life below. The cafe also sells a range of local artisan sauces, chutneys and honey.
Hokianga Takeaways is one of the best fish and chip shops in the whole of Northland. Its quirky hipster decor gives it a cosy feel. The menu includes locally-caught fish including New Zealand flounder, a must-try! The tasty paua (native NZ abalone) fritter, and the raw fish salad are both winners too. The prices are cheap and the staff cheerful. The store is located on the Main Street, you can't miss it.
The Rawene Masonic Pub & Hotel is a great place to grab a bite to eat. Here you can view a lot of the area's history simply hanging on the wall. Old photos show the town centre and how things used to be. The staff are happy to fill in any gaps on the building's history and their menu is full of Kiwi classics along with gourmet treats. Be sure to sample the local fresh seafood platter here.
If you're in the mood for fresh fruit, then the summer months have you covered. With the sub-tropical environment and long warm days, bananas grow like crazy here. Located just behind the laundromat is a small stall selling all kinds of bananas, plums and local honey. It's run on an honesty policy meaning you just pop your money in the box, take your fruit and you're off!
What to see in Rawene
Once you've drunk in the peaceful harbour views, a stroll around the main street and its shops is a great way to spend time in Rawene.
Passionate is a quirky store full of art, crafts and collectibles of bygone eras. Antique Jewellery and clothing from the days of the missionary arrival can be found here. Candles, incense, vintage postcards and buttons, sculptures made from recycled and melted glass bottles and plenty of books on Māori myths and legends can be found here. The store is full of nostalgic finds and even sells fresh herb plants out the front on the old wooden balcony.
The puzzle and game store Simply Fun is a one-stop shop full of mind challenging puzzles as well as some classic board games. The store sits opposite the Boatshed Cafe and is a nice place to browse the collections of old and new games. It has a locally handcrafted and carved puzzle and mind game section made from New Zealand native wood.
From Rawene you can also take the ferry across the harbour to Kohukohu to explore. This historic town now has a flourishing arts scene.
Getting to Rawene
If you're driving yourself to Rawene from the Bay of Islands, the trip will take you a little over an hour.
If you're coming from the north, you'll catch the vehicle ferry from the Narrows, just south of Kohukohu. This drive is part of the Twin Coast Discovery Highway.