This charming seaside village has a surprising past. Find out about Russell's history, how to get there and what to do when you arrive.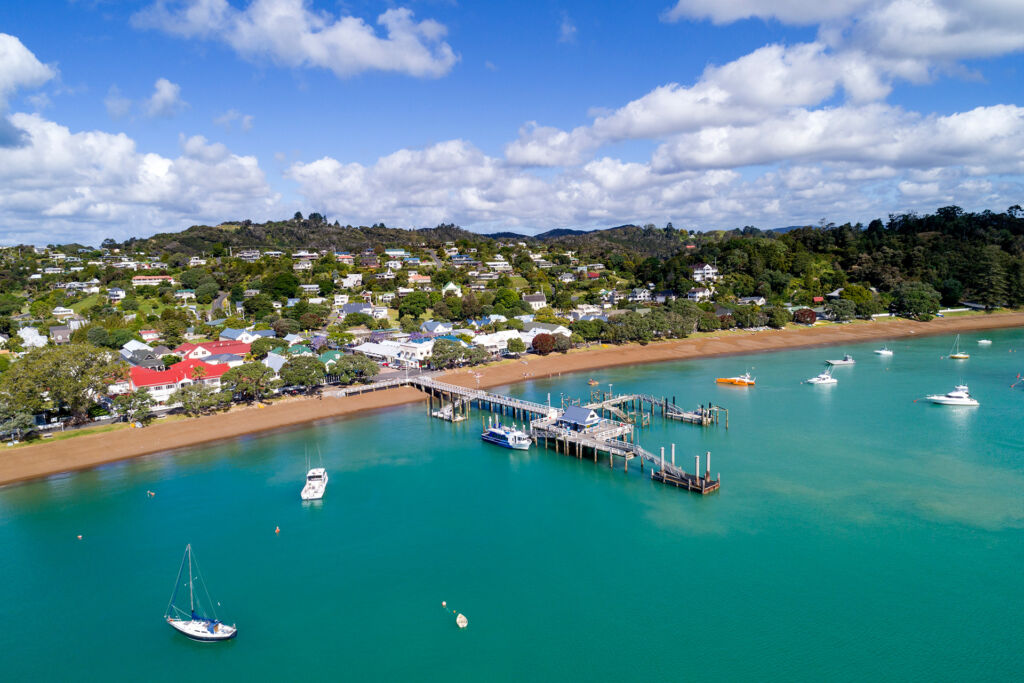 Where is Russell?
Russell is New Zealand's oldest European settlement, and has a sleepy tranquillity that belies its tumultuous past. A picture-perfect seaside town, Russell is situated on a peninsula across the harbour from Paihia. It can be reached by passenger ferry, car ferry or by road.
Russell History
Russell's original name is Kororāreka, and it was a thriving Māori settlement well before Captain Cook arrived in 1769. The name is believed to have come from a wounded chief who was given some medicinal penguin soup. Upon tasting the broth, he said 'Ka reka ko kororā', which means 'how sweet is the penguin'.
In the early 1800s, European and American ships began visiting Russell and trading with the local iwi (tribes). Russell offered a safe anchorage, so it quickly became a popular port of call for sailors, whalers and traders – as well as deserting seamen, runaway convicts, grog sellers and prostitutes. The once peaceful harbour soon gained a reputation as the 'Hell hole of the Pacific'.
As one of New Zealand's oldest settlements, Russell is home to many New Zealand firsts. A Russell tavern called the Duke of Marlborough was granted New Zealand's first ever liquor licence in the 1840s. (You can still see the licence hanging over the bar today.)
In 1840, New Zealand's founding document the Treaty of Waitangi was signed just across the harbour from Russell. Okiato, just to the south, was then chosen as New Zealand's first capital and renamed Russell after Lord John Russell, Secretary of State for the colonies at the time. A year later Hobson changed his mind and made Auckland the capital. Over the years the name Russell began to be used for Kororāreka instead.
The years after the Treaty signing, saw tensions between Māori and the British. The British flew their Union Jack flag up on Flagstaff Hill (Maiki Hill) above Russell harbour. To some Māori this symbol of their loss of sovereignty was an unbearable provocation. Between 1844 and 1845 the flagstaff was cut down four times, with Ngāpuhi chieftain Hone Heke responsible for three of these protests. After the fourth flagstaff incident, war broke out in Russell and around Northland. You can see the bullet holes in the walls of Christ Church where the fighting raged.
Today another flagstaff, erected by Ngāpuhi iwi as a sign of goodwill, stands on Flagstaff Hill. The town below is once again a peaceful place, popular worldwide as a big game fishing base.
Things to do in Russell
There's so much to see and do in Russell. If you have limited time, catch the ferry from Paihia and wander along the waterfront, looking at the historic buildings and enjoying the view. Grab some fish and chips to eat on the beach or sit down for a meal at one of the waterfront cafes, restaurants and bars.
There are plenty of great walks around Russell – hike to the top of Flagstaff Hill for amazing views over the Bay of Islands, or walk through the town and over the hill to get to Oneroa (Long Beach) for a swim.
If you're keen to get out on the water, have a chat to the friendly information office about fishing, boating and cruise options. From a whole day out on the water to kayak hire and parasailing, there's something for everyone.
If you're a history buff, wander around Christ Church, take a tour of Pompallier House or visit the Russell Museum to find out more about Russell and its chequered past.
Getting to Russell
The quickest way to get to Russell from Paihia is by ferry. You can take the passenger ferry directly across the harbour, or cross over on the vehicle ferry between Opua and Okiato.
Many people don't realise that Russell is on a peninsula not an island! However, getting there by road without using the vehicle ferry will take a lot longer. The coastal road is not sealed and is narrow and very windy in places.
If you're planning to drive to Russell, be aware that some GPS navigators don't recognise the Opua car ferry as the direct route to Russell, and will suggest the coastal road instead.